ABOUT DEER VALLEY VILLAGE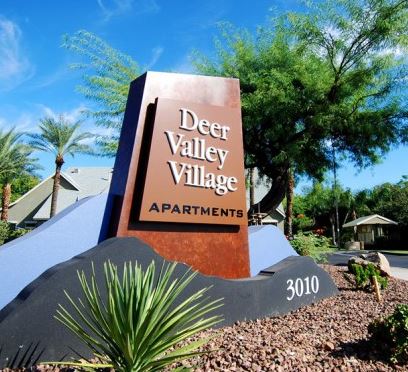 Deer Valley or Deer Valley Village is one of the 15 urban villages that make up Phoenix, Arizona. Located on the north western part of Phoenix, it borders Glendale and Peoria. It borders four other urban villages (North Gateway, North Mountain, Paradise Valley and Desert View). The village is 57 square miles and is centered at Interstate 17 and Arizona Loop 101.
LIVING IN DEER VALLEY VILLAGE
Deer Valley Village is comprised of industrial, commercial and multifamily housing developments. Outer areas have bigger and wider residential land areas.
Notable geographic points of attraction include the volcanic Adobe Mountains and Hedgpeth Hills, Adobe Dam, Skunk Creek, and Scatter Wash
Deer Valley Airport, one of the busiest general aviation airports in the country.
THINGS TO DO NEAR DEER VALLEY VILLAGE
Turf Paradise – a versatile race track in the Deer Valley area of Phoenix. The track is known for both thoroughbred and quarter horse racing.  The last few years however, it has also hosted motorcycle racing during the off-season.
Wet'n'Wild Phoenix – formerly known as WaterWorld Safari, this waterpark is a 35-acre development and is Arizona's largest theme park.  It can be found in North Phoenix at Adobe Dam Regional Park. It is one of seven water parks operating under the global Wet'n'Wild brand.
Central Arizona Project – a canal carrying water from the Colorado River at Lake Havasu to Phoenix and Tucson passes through Deer Valley village.
The Deer Valley Petroglyph Preserve – listed on the National Register of Historic Places and considered as one of "Phoenix Points of Pride", this  47-acre archaeological site contains over 1500 Petroglyphs – images created by removing part of a rock surface by incising, picking, carving, or abrading, as a form of rock art.
Adobe Dam Regional Park – a 1,514-acre park located behind Adobe Dam in an area primarily designated for flood control. The park includes a sports complex for softball and sand volleyball, a paintball field, kart racing track, a golf course, an RC aircraft flight facility, and a 44-acre large scale model railroad.
DEER VALLEY VILLAGE ZIP CODES:
85027
85053
85023
85085
85308
85024
85310
85022
85083
85306
85080
ALL APPLIANCE REPAIR To DEER VALLEY VILLAGE
We'll come to your home to fix your appliance in no time! Schedule your appointment today!